For a while now ive wanted to test the Asus A7V333 MB , esp since so many A7v333 owners have been poo pooing the Epox 8k3a , nothing like a head to head test hey folks . Not just any test but a overclocking test , to see how high you can go with the same components , this should help determine the better overclocking MB . Unfortunately the Asus did not want to be flashed with the latest bios , and in all honesty I was becoming a little frustrated with this board and its temperamental behavior , so with time running out , the Testing would be done with the original 1005 Bios .
EPOX 8K3A (kt333)
Supports Socket A Processors.
AMD Athlon & Duron.
VIA Apollo KT333 AGPset.
/O Controller.
1 Floppy drive controller,
1 Parallel port (EPP, ECP),
2 Serial ports.
USB.
2x USB 1.1 connectors (2 more as option).
Award PnP BIOS. Flash upgradeable.
120MB ATAPI floppy drive and ZIP support!
Standard ATX form factor.
305mm x 245mm ATX.
UltraDMA-100+33 EIDE Controllers. (Up to 4 IDE devices).
Backwards compatible with PIO mode 3/4 & UltraDMA-33/66/100.
3x DDR-SDRAM Slots for PC2700.
3GB max. supported.
PS/2 connectors.
1 PS/2 mouse, 1 PS/2 keyboard.
6 (32-bit) PCI, 1 AGP.
AGP supports 1x, 2x and 4x modes.
Built-in AC97 Digital Audio (by VT8233A/8235) :
Dual full-duplex Direct Sound channels
FM synthesis for legacy compatibility
Supports game and MIDI port
Extended Functions
Supports Hardware Monitoring Function by W83697HF
Supports exclusive KBPO (KeyBoard Power On)
Supports CPU Vcore setting via BIOS
Supports Memory Voltage setting via BIOS
Supports CPU Clock setting via BIOS
Supports STR (Suspend To RAM) power saving Function
Supports CPU Multiplier setting via BIOS
Supports Wake-On-LAN Function
The Epox 8k3a is running on the 2328 Bios , ( last non beta release ) and there have been at least 2 Beta releases since , but the 2328 Bios has proven to be very reliable for me .
SYSTEM : EPOX 8K3A , SAMSUNG 2700 DDR RAM 256MB , UNLOCKED XP1700 , GF2ti , SOUNDBLASTER LIVE VALUE , 400W POWER SUPPLY , MAXTOR ATA133 7200RPM 40GIG , SEAGATE 20GIG ATA100 7200RPM , 50X CD-ROM , 32X8X4 CD-RW . WIN98SE , DIRECT X8 , NVIDIA 28.32 DET DRIVERS.
Lets see how the Epox did , overclocking , first we push the cpu as high as we can .
| | | | | |
| --- | --- | --- | --- | --- |
| XP1700 | 140mhz BUS | 145mhz BUS | 150mhz BUS | 155mhz BUS |
| 1.8v (11.5 x ) | Boot | Fail | | |
| 1.85v (11.5 x ) | Boot | 143mhz Boot | Fail | |
| 1.9v ( 11.5 x ) | Boot | Fail | | |
| 1.95v ( 11.5 x ) | Boot | Boot | 147mhz Boot | Fail |
| 2v ( 11.5 x ) | Boot | Boot | Boot | Fail |
You can see from the table how the cpu did , At 1.95v and 147mhz Bus , the computer booted but locked up , when shutting down , the same thing happened with 2v and 150mhz Bus , it locked up when being shut down . So the max cpu clock speed achieved was 1725mhz @ 2v , and to get it to run stable at this speed more voltage would have been needed , as well as better cooling . Now to see how high we can take the Bus speed , and here is were a unlocked cpu comes in real handy , with the multiplier set to 7.5 , in theory we should be able to go way over 200mhz FSB .
190mhz FSB : The Turbo setting for the ram failed here and I had to back the ram of to the FASTEST setting to continue . Dimm voltage was 2.6v at this stage .
195mhz FSB : CPU @ 1463mhz 1.8v , ram set to FASTEST .
SisoftSandra 2002 Mem Bandwidth test.
Ram Int Buffered aEMMX / aSSE Bandwidth 2651MBs
Ram Float Buffered aEMMX / aSSE Bandwidth 2377MBs
200mhz FSB : CPU @ 1500mhz , ram set to FASTEST . Dimm Voltage up to 2.7v
SisoftSandra 2002 Mem Bandwidth test.
Ram Int Buffered aEMMX / aSSE Bandwidth 2584MBs
Ram Float Buffered aEMMX / aSSE Bandwidth 2343MBs
205mhz FSB : CPU @ 1538mhz , ram set to Fastest . Dimm 2.7v Locked up starting SisoftSandra 2002 .
So , we can see from the results that 195mhz FSB gives us the best Mem Bandwidth results on the Epox , so I also did a PCmark 2002 ( free ) test , giving a CPU score of 4483 , MEM score 3843 , and a HDD score of 995 . 3Dmark 2001 returned a score of 5082 3Dmarks all @ 195mhz FSB .
At stock settings ( 166mhz Bus x 9.5 = 1577mhz ) I get the following results :
5088 3Dmarks ( 3Dmark2001 )
Pc Mark 2002 ( free )
CPU 4776 , MEM 3788 , HDD 991 .
Sisoft Sandra 2002
2378 MBs
2204 MBs
( ORIGINAL EPOX 8K3A REVIEW HERE )
ASUS A7V333 (KT333)
First impressions of the Asus A7V333 were good , I really like the board layout , setting it up , in my case was easy , it booted the first time , and I went straight into the BIOS and set it up the way I wanted . There is plenty of room around the socket for just about any cooler you chose , I have to honestly say that the A7v333 layout is very much to my liking .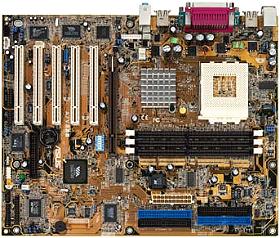 The A7V333 incorporates VIA® KT333 chipset to support AMD® socket A processors and high-bandwidth PC2700 DDR (double data rate) memory. Loaded with additional features such as ATA133 RAID, USB 2.0 and 1394 ports, 6-channel hardware audio, as well as innovative ASUS thermal protection technologies, the A7V333 delivers optimum performance and value.
AMD Athlon XP Ready
Optimally designed for cutting-edge software applications of high-performance desktop systems, the AMD Athlon XP processor provides exceptional performance for 3D gaming, digital media, office productivity and overall computing.
ASUS C.O.P (CPU Overheating Protection)
ASUS C.O.P (CPU Overheating Protection) is a hardware protection circuit that automatically shuts down the system power before temperatures go high enough to permanently damage your CPU.
DDR333 (PC2700) Support
DDR333 (PC2700), the latest and fastest memory standard, supports bandwidth up to 2.7GB/s to provide enhanced performance for Athlon™ XP.
RAID ATA133 (optional)
Supporting the most advanced ATA133 hard drives with RAID 0 (striping) or RAID 1 (mirror), the onboard Promise 20276 RAID controller enables enhanced functionality and hard disk performance without the cost of additional add-on cards.
USB 2.0 Ready
USB 2.0 is the latest connectivity standard for next generation components and peripherals. Backward compatible with current USB 1.1 peripherals, USB 2.0 delivers transfer speeds up to 40 times faster at 480MB/s, for easy connectivity and ultra-fast data transfers.
ASUS Q-Fan
Constant, high-pitched noise generated from heatsink fans are a thing of the past thanks to ASUS Q-Fan™. The ASUS A7V333 with Q-Fan™ technology intelligently adjusts fan speeds according to system loading to ensure quiet, cool and efficient operation.
ASUS MyLogo™
ASUS MyLogo™ personalizes and adds style to your system with customizable boot logos.
6-Channel Audio (optional)
The A7V333 uses an onboard C-Media 8738 audio controller (on audio model only) that lets you enjoy high-quality 6-channel audio without having to buy advanced sound cards.
ASUS Reliability
All ASUS motherboards are designed and tested to meet the highest quality standards. Responsive customer support and frequent BIOS and driver updates ensure the fastest, most reliable performance. All ASUS motherboards are backed by a 3-year limited warranty.
System specs are the same except for the MB of course , so onto overclocking the A7V333 : First the CPU
| | | | |
| --- | --- | --- | --- |
| XP1700 | 140mhz Bus | 145mhz Bus | 150mhz Bus |
| 1.8v ( 11.5 x ) | Boot | Fail | |
| 1.85v ( 11.5 x ) | Boot | Fail | |
Not so good at all , lets try pushing the FSB up as high as it will go shall we. 7.5 x FSB
195mhz : CPU @ 1.85v Lock up at boot. ram set to Auto , and 1 to 1 with bus speed .
190mhz : CPU @ 1.85v Lock up at boot . ram set to Auto , and 1 to 1 with bus speed .
185mhz : CPU @ 1388mhz 1.85v , ram set to Auto , and 1 to 1 with bus speed .
Sisoft Sandra 2002 Mem Bandwidth test .
Ram Int Buffered aEMMX / aSSE Bandwidth 2320
Ram Float Buffered aEMMX / aSSE Bandwidth 2096
Ok , those results are not to good at all folks :
Lets see how the A7V333 does at my default 9.5 x 166mhz bus = 1577mhz .
4728 3Dmarks ( 3Dmark 2001 )
PcMark 2002
CPU 4699 , MEM 3517 , HDD 915
Sisoft Sandra 2002
2335 MBs
2118 MBs
CONCLUSION:
MAX CPU SPEED
MAX FSB SPEED STABLE
3DMARK2001
SISOFT SANDRA 2002 @ STOCK SPEED ( 166MHZ FSB )
| | |
| --- | --- |
| EPOX | Ram Int Buffered aEMMX / aSSE Bandwidth 2378 MBs |
| ASUS | Ram Int Buffered aEMMX / aSSE Bandwidth 2335 MBs |
| EPOX | Ram Float Buffered aEMMX / aSSE Bandwidth 2204 MBs |
| ASUS | Ram Float Buffered aEMMX / aSSE Bandwidth 2118 MBs |
Well there we go , I tried to install the 1007 Bios for the A7v333 but it refused to install so I was forced to do the testing with the original 1005 bios . Also when doing overclocking experiments and the system hung up and I was forced to re-boot , the system reset itself in such a way that all the MB drivers needed to be re-installed , which took almost 20min , and until all the drivers were installed my USB mouse would not work . Another thing that happened was that the Communications Port Com2 became Com5 for some reason ? . The 1007 Bios may resolve these issues and also give better overclocking results , but since the MB refused to be flashed !
Well as far as overclocking goes the Epox MB is far less temperamental , more user friendly , and easier to use than the Asus MB.
Certainly the Asus MB comes with USB 1.1 and 2.0 , but it also has more manual jumpers than you can shake a stick at , seriously , the jumpers are placed all over the MB , and if you have enough plug ins installed then a partial dismantling may be necessary to reach the jumpers , and I have to poo poo ASUS here for not going fully jumperless like the Epox . I can see why ASUS may have gone this way , with so many idiots screwing up there BIOS to the point where the computer wont even boot anymore , but a more detailed instruction manual would be the way to go rather than manual jumpers . As far as I can see the Asus A7V333 is not a serious overclocking MB , and its been some time since ASUS did make a serious MB for overclockers , sure the A7v333 has plenty of settings to play with , but it's not overclocker user friendly . The Epox on the other hand is fully jumperless and you can do all your adjustments from the bios . The thing I like about the Epox 8k3a is that when it fails to boot ( not enough voltage or to much mhz ) it consequently refuses to reboot . All you have to do is turn of the power at the wall for 10sec , turn the power back on and boot and go straight into the bios to try again , no having to re-install MB drivers , just change the CPU settings or give it more voltage and try again , great for experimenting with settings , and you dont lose a lot of time . Epox has made a great MB for overclockers , plenty of bios settings , lots of Voltage ( enough to fry your CPU ) in a very affordable package . To date I have had no problems with the Epox , even having tested 4 GF4 ti.... cards on it with no problems .
So if you are looking for a good stable platform to build a computer on then I can in all good honesty recommend the Epox 8k3a , and at the same time I can say with equal honesty that I have never had as many problems with past Asus MB's that Ive owned as I have had in the last 2 days with the A7V333 . The 1007 Bios may solve the problems Ive had , but since the MB refuses to have the 1007 Bios flashed to it , its a rather mute point . And since I dont have the time to work out why the BIOS refuses to be Flashed I'll have to leave things as they are .
I would like to thank MSY for making this review possible .
Matt Korhonen